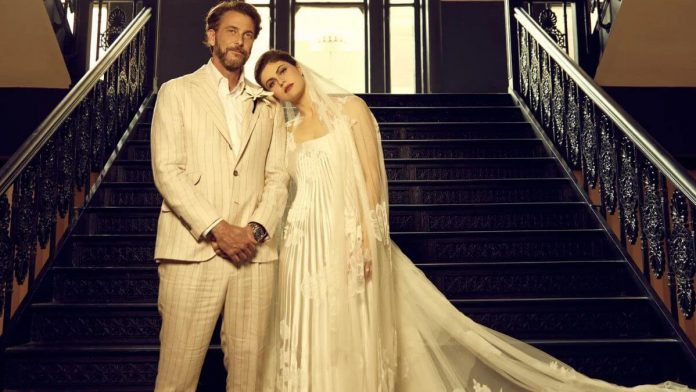 The actress Alexandra Daddario and the acclaimed television and film producer Andrew Form got married in June 2022. Alexandra Daddario most recently appeared in the HBO blockbuster series The White Lotus. The celebrity-studded nuptials were held at Preservation Hall.
Alexandra Daddario's Danielle Frankel Wedding
Due to their busy work schedules, Alexandra and the producer recruited a professional wedding planner to guide them through each phase of their engagement. The extremely brilliant wedding planner Michelle Norwood did an excellent job of getting the couple in the mood for getting married when they were completely preoccupied with their professional lives.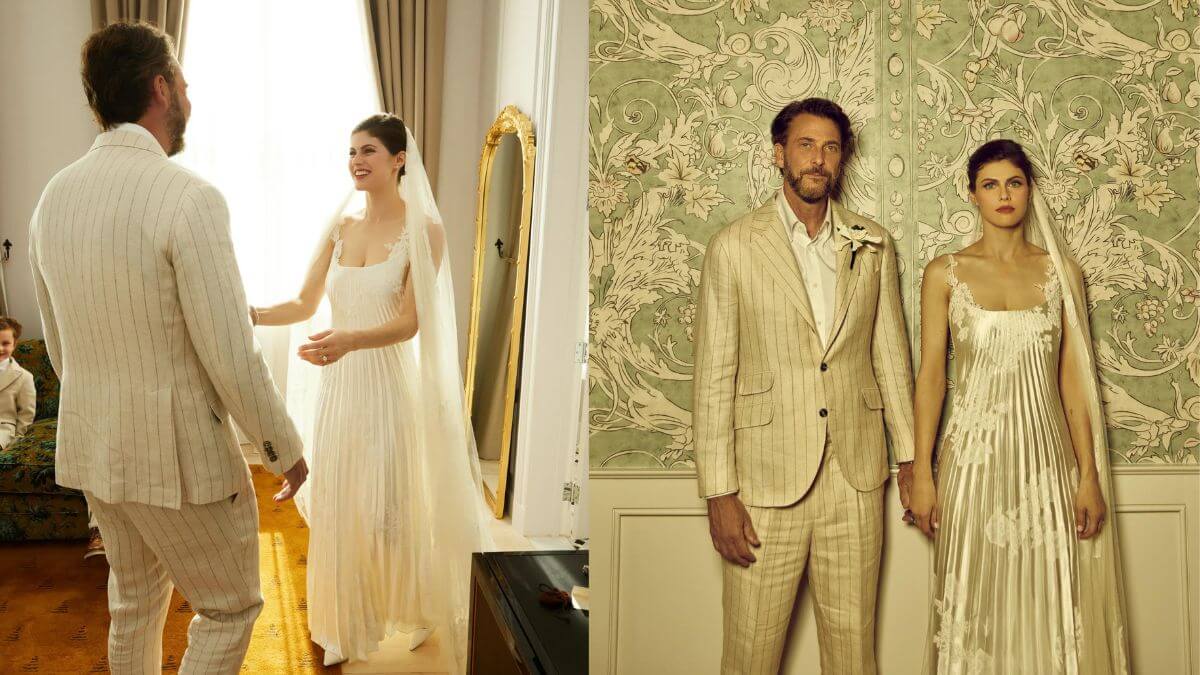 Alexandra revealed that despite having grand plans for her wedding, she was only able to dream about it due to her busy schedule filming even at night. Michelle was simply outstanding in making sure the actress and producer had a wonderful wedding day.
As anticipated, the actress went to Danielle Frankel for her wedding gown. She was a devoted follower of Danielle Frankel's Instagram account and like her wedding dress very much.
They got off to a terrific start when Alexandra, who was always keeping an eye on the gorgeous wedding collections, messaged Danielle on Instagram.
The actress travelled to the studio to try on various bridal gowns before making her decision. She then made the appropriate selection, one that was ideal for the heat in Louisiana.
The wedding day's accessories were kept simple but stunning. Nothing heavy or significant was chosen to cover Alexandra on the wedding day because she was concerned about the heat.
Andrew Form chose a pinstripe suit with the Brunello Cucinelli logo that perfectly complemented the colour of his bride's dress. The brand had long since captured Andrew's heart, and he always opted for button-down shirts to pair with trousers. He wisely selected a lovely, unpretentious suit that worked fantastic for their New Orleans wedding on a humid June day.
In May 2021, Alexandra formally announced her romance with Andrew by posting a black-and-white photo of the adorable couple to Instagram. Later, reports of their engagement surfaced.
Before falling in love with Alexandra, Form was married to American-Brazilian actress Jordana Brewster, with whom he has two sons.
His sons appeared at the wedding as well, dressed in royal garb and appearing to help their father prepare for the very special day. His boys served as the best men and ring bearers. That was absolutely adorable and enhanced the beauty of the day.
The wedding ceremony appeared straightforward overall, with soft music and delectable refreshments. A small ceremony with only their closest family and friends was arranged by the couple. Here begins our new chapter of life together, the pair declared, having achieved everything they had jointly dreamed of.