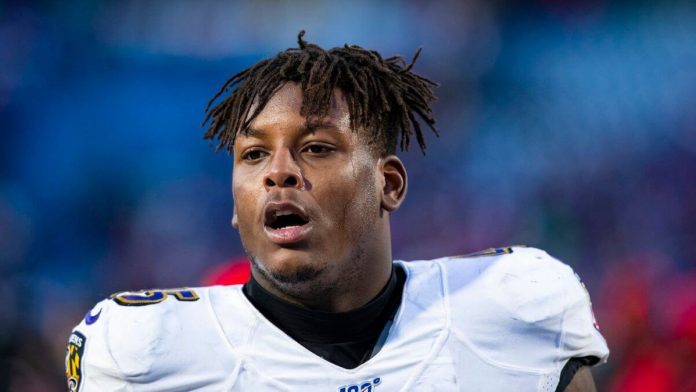 Jaylon Ferguson, linebacker for the Baltimore Ravens, died Wednesday at age 26. Ferguson, who was selected by the Ravens in the third round of the 2019 draft, came to the NFL after being a standout player at Louisiana Tech. Ferguson racked up 67 tackles and 4.5 sacks in his three seasons with the Ravens.
Baltimore Ravens Outside Linebacker Jaylon Ferguson Has Died
According to Baltimore police, officers were called to a home in the northern part of the city around 11:25 p.m. Tuesday, where they found Ferguson unconscious and receiving medical attention. According to authorities, Ferguson did not regain consciousness and was pronounced dead at the scene by medical personnel.
There were no obvious signs of trauma or suspected foul play. The medical examiner's office has received Ferguson's body, where the cause of death will be determined. According to a police spokesman, an investigation is still underway to determine if it was an overdose.
Ferguson, a 2019 third-round pick of the Ravens, had attended every practice the team had this year. He had lost a lot of weight, and it was clear he had worked hard to be in the best shape of his career.
Stanley recalled that even when I coached against him, I was constantly complimented on how good he was. "Every time there was a new kid on the way, he was full of anticipation. He talked about them frequently."
According to Baltimore police, officers found Ferguson unconscious and receiving medical treatment when they arrived at a residence in the 400 block of Ilchester Avenue in Baltimore's Harwood neighborhood after a suspicious death was reported.
Ferguson, who is in his fourth season with the organization, impressed Todd Karpovich of Sports Illustrated affiliate FanNation by arriving at the team's latest minicamp thinner and with an "obvious sense of urgency."
Ferguson said some of the team's veteran defensive backs, including Justin Houston, Pernell McPhee, Derek Wolfe, Tyus Bowser and Calais Campbell, are teaching him new methods as he prepares for his third NFL season in 2021.
Ferguson helped his community of Ruston, Louisiana, recover from a deadly tornado for most of the 2019 draft, in which he was selected 85th overall. He cleared the road of uprooted trees while helping to search for the missing. He also helped deliver pizza and water to those in need.
Ferguson has two daughters and a son, all under the age of five.
Ferguson's agent, Safarrah Lawson, said in a statement, "He was a great young man full of love and life." "He was not only an outstanding soccer player, but a wonderful father, son, brother and friend. Please include the family in your prayers."
Read More: