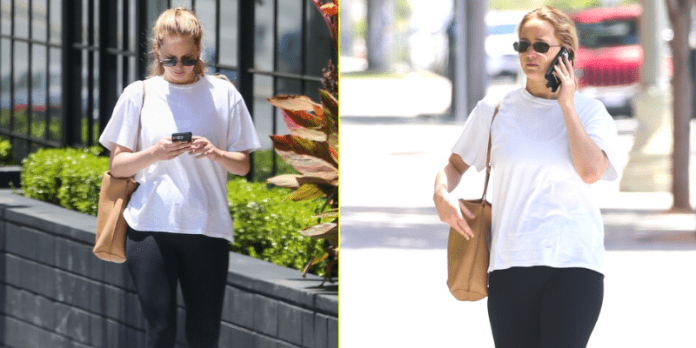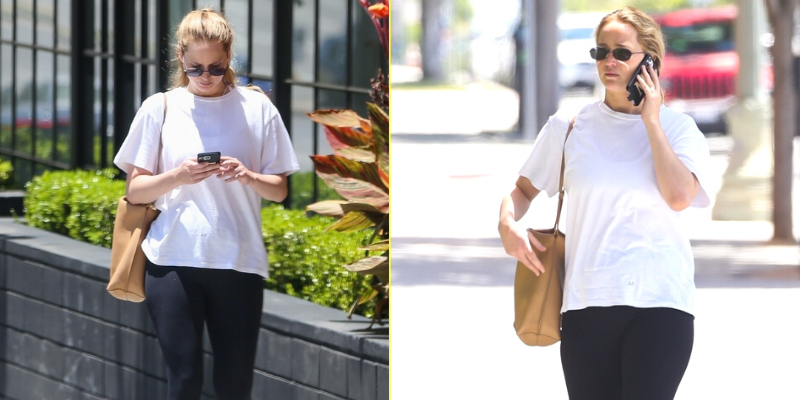 Jennifer Lawrence, an American actress, was spotted when she was out for a workout recently. 
Jennifer, who is 31, is an Oscar winner, was seen in a very casual outfit on her way to the Pilates class in Beverly Hills. She was noticed by the people on Tuesday.
Jennifer and her husband, Cooke Maroney, have recently welcomed their first baby in February this year. The actress, who is also an art gallery director, tied their knot back in 2019 in Rhode Island.
Last year, the star of Hunger Games shared how she planned to mask her child and their private life out of public life.
Jennifer Lawrence Mum Of One, Looks Stunning Even In Casual Outfit
Jennifer, who is now a mum of one, seems still incredibly stylish in wearing a plain white T-shirt paired well with simple Yoga pants in black. The award winner even added a pair of black flip-flops that goes well with her yoga pants to make walking in the street towards Pilates class much easier.
Her long hair was pulled back using a clip to form a stylish ponytail. The hairstyle made her less bothered about those hairs falling onto her face. And there is no other ideal way to tie the hair while heading on to perform an exercise routine.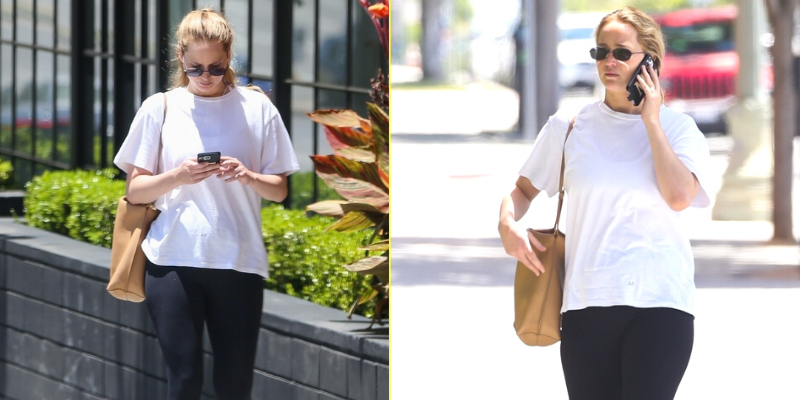 On that sunny day in California, the star never forgot to wear her oval-shaped black sunglasses to safeguard her eyes from the direct bright light.
She had a slung bag over her shoulders and was holding the phone in her hands. Her outfit and way of walking to the destination were amazingly attractive.
Jennifer Lawrence and Cooke Maroney were out with their four-month-old baby all to shop at the Westfield Century City mall earlier this month. Cooke, 37, was wearing a hoodie and holding two bags in his hands, whereas Jennifer, who was make-up free, got spotted in a white T-shirt and blue jeans. 
About Jennifer Lawrence
When the photo was out, she added that shopping with her husband is fun and she really loves being with him.
The actress got numerous rumors about her first pregnancy, and the couple later confirmed that they were expecting their first child.
Jennifer revealed to her fans that she was all set to start a family and finally found her better half to have kids with.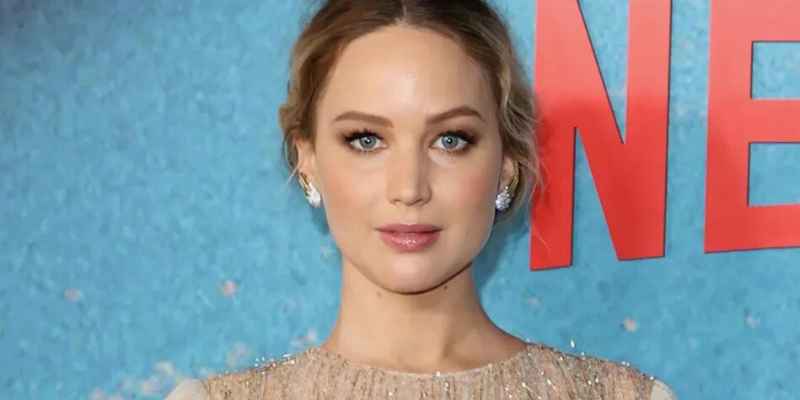 When their bundle of joy arrived in Los Angeles, the couple kept the birthdate and gender of their newborn a secret.
The talented actress always makes sure to get enough privacy for her baby. She even focuses on separating her Hollywood life from her home life and parenting, which she thinks are very much important. 
Jennifer, who is known for playing a wide variety of critically acclaimed roles, is now back to start over her carrier again after having a baby.
A new film titled 'The Hunger Games: The Ballad of the Songbirds and Snakes' is on its way, and the fans are eagerly awaiting for her strong come back with high energy.