Celebrity couples in Korea include; iconic Rain and Kim Tae Hee; and the dynamic Jo Jung Suk and Gummy. The first group tied the knot in 2017, while the second group did not until 2018. Since the beginning of the year, there have been speculations that the two spouses are involved.
Kim Tae Hee Agency Also Talks About The Rumors That Rain Cheated On Her!
A freshly revealed article claims that a famous actor is cheating on his wife with a professional golfer, leading to finger-pointing on the internet.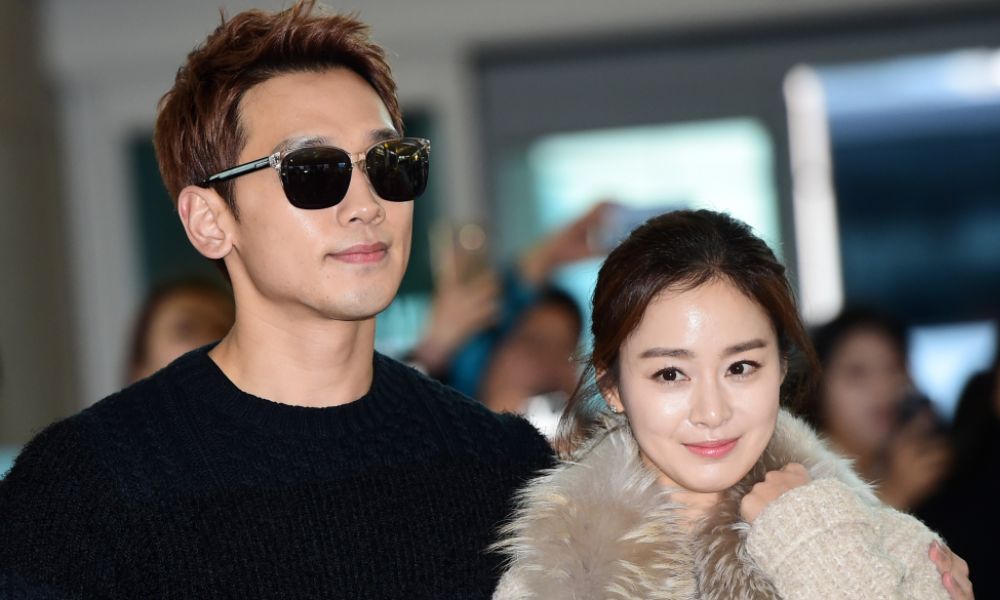 Kim Tae Hee Agency Response
The representatives for the two men in question have spoken out against the rumors, calling them "baseless and ludicrous" and promising to pursue legal action against those responsible.
It was also stated that some internet users had identified the woman as South Korean professional golfer Park Kyung and had begun harassing her on Instagram. 
The athlete shot back at the trolls with a post in which she revealed that she had only met the actors once and that it had been at a sponsored event many years ago. She denied being the woman in question.
Kim Tae Hee Philosophy
On the other hand, Kim Tae Hee's management team has spoken out against the rumors, saying that they have no comment because the story is all made up. The agency continued by saying the actress had laughed off the accusations when she heard about them.
According to reports, Kim Tae Hee has never met the professional golfer who has been implicated. In a similar vein, Rain's agency had reacted.
Agency For Rain Issues Statement In Response To Adultery Rumors With Kim Tae Hee
The management team for South Korean musician Rain has responded forcefully to the cheating claims by announcing they intend to sue the people responsible. Actress Kim Tae Hee of South Korea and Rain, aka Jung Ji Hoon, have been married since 2017.
Fans also have a soft spot for the endearing romance between Rain and Kim Tae Hee. Rain has been very open about his relationship with the award-winning actress Tae Hee over the years, admitting that she was his first 'real love' and that he pursued her for a long time.
On October 6, Rain's management team issued a firm statement in response to widespread cheating rumors. According to a report released to local media, the label denied the validity of the words.
We have remained silent because we did not consider them significant enough to warrant a response. They also promised judicial action against internet trolls who disseminate misinformation.
The Origins Of The Cheating Rumor
A magazine article allegedly sparked the cheating rumor by claiming that a prominent Korean actor with a stunning wife was having an affair with a professional golfer, as reported by Korean media.
According to the article, the top Korean star allegedly got the golfer his own apartment.
A Peek At The Charming Romance Between Rain And Kim Tae Hee!
Almost ten years have passed since Rain and Kim Tae Hee first met on the set of an advertisement. According to Rain, Tae Hee was utterly unfazed by her "stardom," as she helped Rain change her socks on more than one occasion. Rain, captivated by the modesty of the Stairway to Heaven actress, asked her out on a date five times before Tae Hee finally said yes.
In 2017, the couple tied the knot and then honeymooned in Bali. Tae Hee gave birth to their first daughter in that same year. The famous South Korean couple has two lovely daughters together.
As news of Kim Tae Hee's new drama spread, rumors of a cheating scandal involving Rain began to surface. The Korean media announced on October 6 that Rain, a famous multi-talented personality, had been caught in a cheating scandal. His wife, Kim Tae Hee, was busy filming a new drama.
The rumored upcoming drama "Home with a Garden" will include actress Kim Tae Hee. It's a dramatic thriller about a family that pretends to live in "a happy home with a garden."
The book is about a housewife who, after living in a lovely home that her neighbors lusted over, begins to suspect something is amiss and has a rude awakening.
On October 6, Kim Tae Hee's management company stated the actress had accepted the offer and was talking about making an appearance. If she signs up for the drama, it will be her first project since 2020's "Hi Bye, Mama."
However, rumors of an infidelity scandal involving her spouse, Rain, surfaced in the happy comeback drama report.
That's why the Rain and Kim Tae Hee management team shot down the infidelity scandal rumors as soon as they heard about them. They've also threatened legal action against those responsible for spreading rumors about the cheating incident between Rain and Kim Tae Hee.
The Cheating Scandal Rumors Surrounded Kim Tae Hee Just Before the News Of Her Latest Drama Debuted
The Korean publication Woman Sense previously disclosed a prominent star's infidelity. The story claimed he could sing, dance, act, and do just about anything else at a professional level.
This "star of all stars," rumor has it, is also married to a very brilliant and attractive spouse. He was still having an affair with an "A"-list professional golfer. According to the report, the top star's romance with A persisted even after his wife discovered it and warned him to stop. This famous actor even rented a different place to live while having an affair with A.
It has been widely assumed that Rain and Kim Tae Hee were an unfaithful couple since the scandal story surfaced. It came out just before the latest Kim Tae Hee drama reports.
Both Organizations Reacted Quickly To The Rumor
Actors' reputations have traditionally hit when scandals and rumors surface just before a big comeback. That's why the Rain and Kim Tae Hee agencies took swift action in response to the cheating scandal rumors when they appeared in new drama reports.
At first, the agency represented by Rain, known as Rain Company, dismissed the cheating incident as unimportant. Nonetheless, the firm plans to pursue legal action because it could damage both artists' careers, especially since Kim Tae Hee is set to star in a new drama.
Story J Company, which represents Kim Tae Hee, also thought the allegation was baseless. They also said that Kim Tae Hee, another celebrity, found the Rain infidelity story too hilarious to stop laughing about.
Must Read:- Philip Schneider Net Worth, Sources Of Income, Bio!
After Hearing Reports That Rain Was Having An Affair, Kim Tae Hee Reacted Harshly
Online reports about a male celebrity having an affair with a female professional golfer began circulating on October 6. There was much conjecture regarding the top talent in question, with names like Rain and Jo Jung Suk being thrown about by media and internet users.
Kim Tae Hee's agency published her reaction to Rain's affair rumors in a conversation with Chosun.com the same day. A few years ago, at a corporate event, was the last time I saw him. "I don't even have his number.
But Rain's management team has spoken out, saying, "We investigated with the media outlet that originally reported the story with initials to ask if the referenced artist was ours, and obtained a certain confirmation that the initials had nothing to do with our artist."
Moreover, the agency stated, On the same day, Jo Jung Suk's representatives said the singer denied adultery rumors about him and his wife, singer Gummy, and even alluded to legal action. It was in 2017 that Rain wed Kim Tae Hee, and the couple now has two daughters.
Read More:- Jay Park Net Worth, Sources Of Income, Bio!