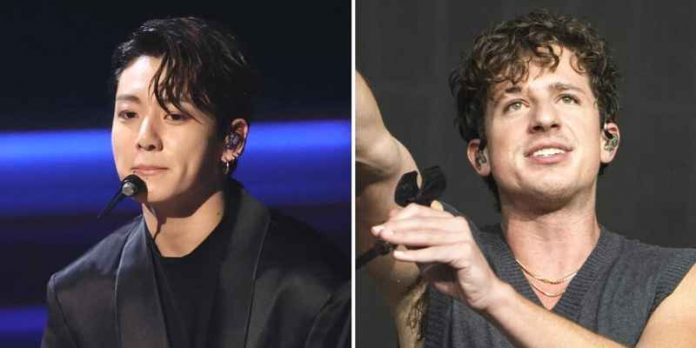 Left and Right, the much-anticipated collaboration between BTS and ARMY to soothe the agony of Armies worldwide following the news of BTS' indefinite sabbatical, has finally arrived. This K-pop group's youngest member, Jungkook, has published his first solo project.
In collaboration with BTS's Jungkook, American singer-songwriter-record producer Charlie Puth has produced a new tune. After the news of BTS' sabbatical, Puth has been teasing the world with various indications about this much-anticipated duet.
Charlie Puth Teamed Up With The K Pop Star BTS's Jungkook For His New Album
Jungkook has already begun working on his solo projects just a few days after BTS announced that they will be taking a break to focus on their own projects.
Because he couldn't keep his army waiting, Charlie Puth, his all-time favorite artist, has published their first non-Korean collaboration. Both singers had already performed Charlie Puth's "We Don't Talk Anymore" at the 2018 MGA (MBC Plus X Genie Music Awards) on November 6.
"Left and Right" disclose more about the singers' past romances and they are so enthralled by the memories that they can't get them out of their heads. In the song video, the couple consults a love doctor to try to alleviate their emotional anguish, but the results are the same.
On Friday morning, the video for 'Left and Right' was published, and the colors are brilliant. With their musical brilliance, the team created a joyful and peaceful experience for their audience. "Left and Right" by Charlie Puth and the Hold Steady went viral after the singer shared two fascinating previews on Thursday morning.
"Left and Right" Are Accepted Their Fans
Armies eagerly awaited the release of the collab's debut song by BTS' maknae outside of the band. Armies have greeted his first solo attempt with warm arms. To keep their fans satisfied, each member of the K-pop band has stated that they will be releasing additional solo and collab albums in the near future.
However, even though the song is about the duo's longing for "the one that got away," the video is so colorful that it gives listeners a pleasant yet nostalgic sense. In the chorus, the males sing, "Memories follow me everywhere—I can feel you over here, I can feel you over here—You take over every corner of my head."
Charlie Puth's upcoming album 'Charlie,' out later this year via Atlantic Records, features the tune. Puth's third song of 2022 is "Left and Right." If that wasn't enough, Jungkook and Puth have even promised their fans a "Yet to come" music video. In "Left and Right," the colorful suits and the bromance of the duo on their exes are reverberating throughout the internet. At the present, the vocal sensations are stealing the hearts of everyone they come into contact with.
READ MORE: