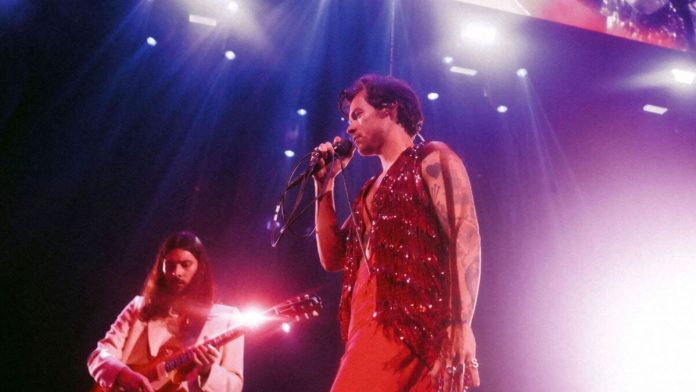 During the Wembley Stadium Performance, this Sunday, Harry Styles encouraged a fan to be officially gay live on stage. The former One-Direction star created a sensational moment on board before millions of fans.
Harry Styles Surprised Wembley Stadium Fans By Supporting LGBTQIA
Mattia, one of the fans of the popular singer, hands over written cardboard in which he is seeking help from the star in letting him free. Harry happily accepts the card in support of LGBTQIA, which independently stands for Lesbian, Gay, Bisexual, Transgender, Queer, Intersex, and Asexual.
Since June is commonly considered the Month of Pride, the singer waved the multicolored pride flag on June 19, upon the stage, indicating the freedom of any gender identity. The fandom went crazy in support of the 28-year-old singer.
The star's sister, Gemma was present among the millions of audience and was cheering for the bravery of her brother.
Harry built suspense at the moment by holding himself back from waving the rainbow flag and finally took it above his head and freed Mattia. The Wembley Stadium cheered for the bravery shown by the youngster.
Harry Styles is usually very fond when it comes to his fans. This is not the first time he has been spotted helping a fan of his.
In conjunction with it, Harry Styles's Mom shared a snap on her Instagram handle saying her son blew her mind when she was least expecting it. No more success could have been anticipated for an already succeeded superstar. She also added that she is a proud mother.
The watermelon singer sang many top chart hits from Wembley Stadium over the weekend and is planning for another stunning performance at Dublin's Aviva Stadium on Wednesday. After these couple of stage shows, the young singer is about to go back to Germany.
The concert-goers are following the entertaining singer everywhere he goes. All of the live performances so far have been remarkable without any doubt.
Harry Styles has always been a good brother, a loving son, and an awesome singer ever since the world knows of him. He is changing the definition of success to an even bigger ideology.
On the first hand, the vibrant singer headed to Wembley Stadium as part of his tour confirming the stage to be the first-ever stadium performance in its history of Harry. He added and rescheduled multiple shows as per the dates and places he would be in, according to his world tour planning. This led to the confirmation of three stadium performances in the UK and four in Europe which included the Wembley Stadium as well.
The star was reported to be dating the actor, Olivia Wilde from January 2021. The duo is rumored to have been dating for nearly a decade and currently is in a love relationship with each other.
Read More: