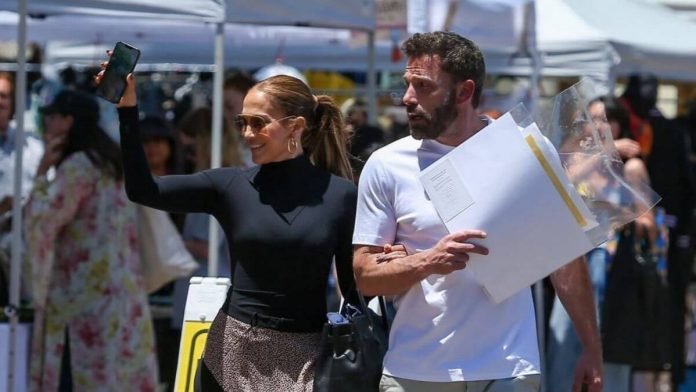 The fact that Ben and Jennifer were discovered together on July 3, 2022 in Los Angeles at Melrose Trading speaks volumes about the intensity of their relationship over the years.
Ben And Jennifer Were Spotted In Los Angeles At MelroseTrading
The couple appeared to be content together and to have a deep-seated desire for one another in the candid photos that have been circulating online.
The lovers appear to have linked their arms tightly and had a contented expression in every photo they posted. Both were wearing casual attire, which added to their enticing chemistry.
Jennifer was dressed in a long, patterned skirt in a bohemian style that went wonderfully with her slim-fitting, black, long-sleeve shirt. Her angles were reached by the skirt, which looked gorgeous. Jennifer also added a stylish pair of light brown sunglasses because it appeared to be a sunny day. She carried a huge, solid-colored purse because she knew that going out with her true love would never look stylish without one. She even created the appearance of a ponytail by bunning her brown-golden hair. Her large circular golden earrings stood out brilliantly against the black blouse with a high collar.
She was looking at her phone while sharing something with Ben while keeping her hands firmly in his.
Ben kept things basic by donning a white plain t-shirt and a pair of light-colored khaki slacks.
The couple appeared to be in a very happy relationship after becoming engaged. They had no qualms about acting on their desires and becoming public figures.
Even earlier, the adorable couple was photographed at a Rolls Royce store. The performer wore pants and a white simple deep-neck top. Her hair was worn loosely in a bun, and she was sporting her brown sunglasses. As usual, Ben kept things pretty straightforward. He was wearing an unbuttoned shirt in a basic grey colour and white sneakers.
Ben and Jennifer met while working together on the 2002 film Gigli. Later, they became engaged and announced their relationship. Both separated in 2004 and started new relationships; they also had children with married people.
Marc Anthony, a well-known singer, and Jennifer were married. They have twin daughters, Max and Emme. In 2008, the couple filed for divorce formally.
Ben married the well-known actress Jennifer Garner, and together they had three children: Violet, Seraphina, and Samuel. 2018 saw the separation of the pair as well.
After quickly mending their relationship, Ben and Jennifer publicly announced their engagement in April 2022.
According to recent reports, the couple intends to marry in a lavish ceremony attended by their closest family and friends.
We can only hope for a nice new wedding tale soon!