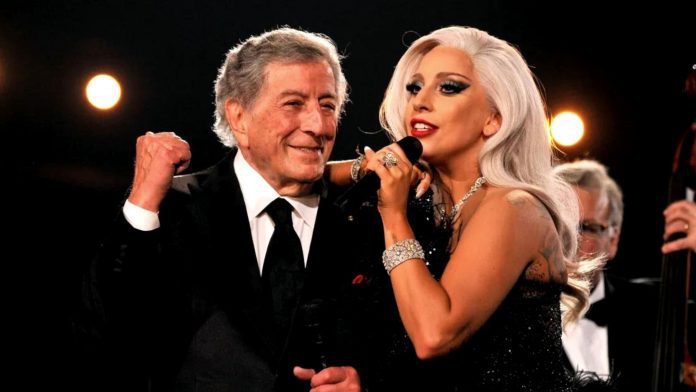 This week, the internet was abuzz with news about Tony Bennett's Alzheimer's Disease. In February 2021, word of this story went around the world. As soon as they heard the news, most of Tony's followers believed that they would never see him perform on stage with a breathtaking performance again.
Lady Gaga And Tony Bennett Collaborate In Preparation For Bennett's Final Major Concert
According to the latest reports, the 94-year-old singer has begun to re-energize himself. He's getting a lot of encouragement from his family as he tries to perfect his performance. At Radio City Music Hall, he and his pal Lady Gaga booked two gigs.
Everyone was unsure of his health, and no one expected him to be able to accomplish so much so quickly. His adoring family was the only ones to have complete faith in the singer's abilities. Their prayers and hopes were answered. Even Tony's family opened up about Tony's struggles with Alzheimer's disease.
He's now in the last act of the show with Lady Gaga, and he's put himself under pressure.
A pop icon for decades, Tony had classics including I Left My Heart in San Francisco, Who Can I Turn To (When Nobody Needs Me), Fly Me To The Moon, The Way You Look Tonight, Stranger In Paradise, and many more.
After he was diagnosed with Alzheimer's, a debilitating condition, all the years he had spent rocking out vanished from his mind. In order to jog his memory, Tony would often sit in front of old books and photographs.
His wife, Susan, recalls the day he initially confessed to her that he has trouble remembering the musicians' names. Members of Tom's band regularly perform with him on stage. When Susan noticed it, she urged Tony to consult a doctor as well.
In 2017, Susan and Tony met Dr. Gayatri Devi, who quickly diagnosed Tony with Alzheimer's disease. That Tony's hippocampus, the Grand Central Station of memories, was unable to retrieve the memories was revealed by the Doctor.
Susan is the singer's third wife, and the two were married in 2007. They lived a wonderful life together until that point, taking care of one another. Susan became a full-time caregiver for Tony after he was diagnosed with Alzheimer's disease because of the affection she had for him.
The first joint album by Tony Bennett and Lady Gaga was published in 2014. In 2018, after a few years of working together, they had a hit single.
Tony may recall the songs, but he has no recollection of the performance in front of such a large crowd. Lady Gaga was aware that it was no longer an easy assignment!
Lady Gaga was the opening act for the show. Susan did her best behind the scenes to keep Tony up to date on the goings-on in the theatre. At this point, raising his hands was all that was required of him. Even though he stumbled a few times, the audience didn't seem to notice, so the concert carried on. As a result, the performance was a success
Read More: