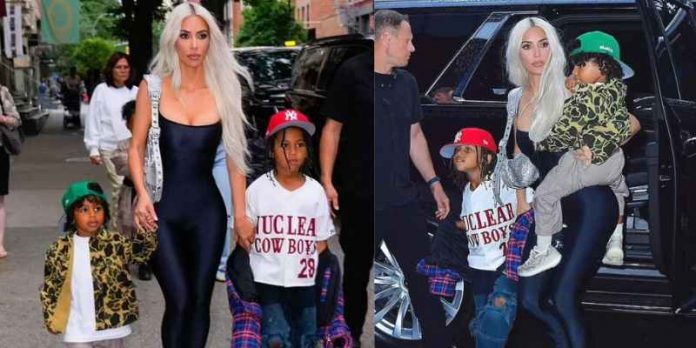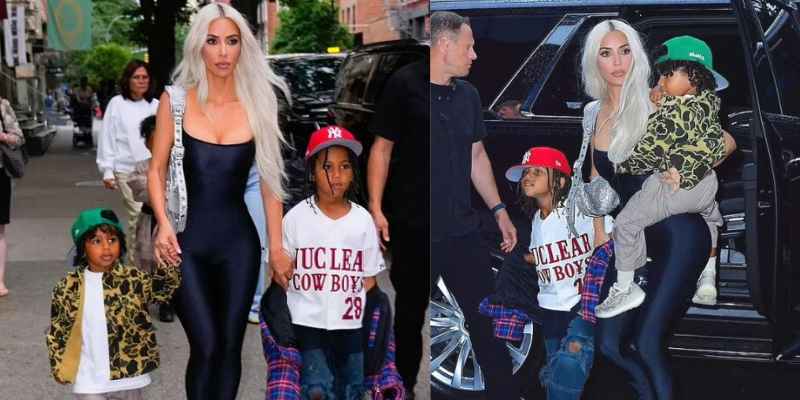 The Kardashian family never disappoints their fans and is always trending all over the internet. Lately, the news of Khloé Kardashian secretly dating some private equity investor has been trending on the internet.
She was having a hard time after her issues with her ex and NBA player Tristan Thompson who was accused of multiple cheating scandals.
Kim Kardashian Spotted In A Restuarant In NYC With Her Younger Sons Saint And Psalm
After the viral news of Khloé's new relationship, another member of the family has been trending lately. Kim Kardashian, Khloé's sister, is seen out in New York City with her sons. The media spotted her in the celebrities-loved restaurant Cipriani. It is quite normal to spot the celebrities and their families outside some luxury hotel but what attracted the media here is something else. 
As said earlier she was accompanied by her younger sons Saint and Psalm, but what felt more lovely was her bond with her kids. She was viewed as a hands-on mom as she returned to New York City hotel with her two sons after her busy schedules in the city.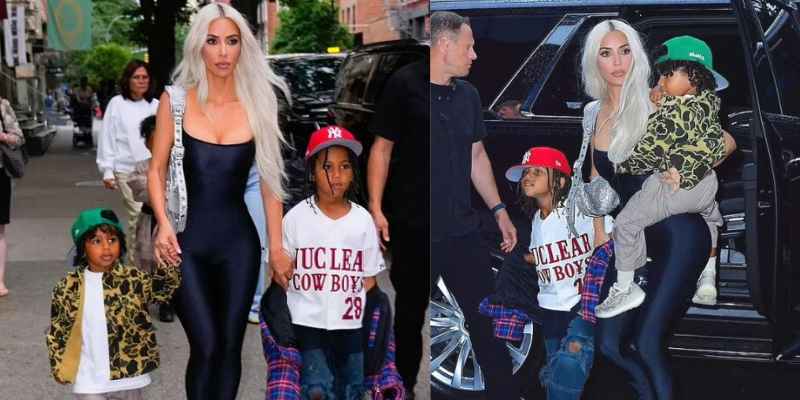 The 41-year-old Kardashian stepped out of her SUV carrying her son Psalm(3) on her hip and held arms with Saint(6) a few steps away from the hotel's entrance. Even with the busy schedule, she made sure to spend some valuable time with her sons and took her little ones to an early dinner.
Earlier this year, Kim filed for divorce from the 45-year-old rapper Kanye West after nearly seven years of marriage. After the divorce, Saint and Psalm stay with their mother, while their 4-year-old daughter and nine-year-old daughter North stay with her Ex-husband.
Kim Kardashian A Socialite, Model, And Business Women
Kim is the founder of several business groups and is renowned in the fields of entertainment, reality shows, fashion designing, etc. she had launched a new skincare line, SKKN, which left her under a lot of pressure. It even made her shift from mom duties lately.  
Earlier that day, Kim had a morning stop at the Today show and later after that, she went to The Tonight Show with Jimmy Falon to talk about her new business ventures and personal life experiences. Right after the wrapping of the show, she came to the Cipriani's with her sons. As appeared within the gorgeous outfit she had worn on the Tonight Show.
It was a curve-clinging black jumpsuit and a pair of in-build boots. She was considered more like an edgy Barbie with her platinum locks cascading down her chest and a pair of shades concealing her eyes. Kim even carried a fashionable glittering silver purse with a coronary heart-formed accent. The little ones were spotted in patterned jackets and disheveled pants to spend their quality time out with their mom. 
After their early dinner, the trio headed back to their hotel in the chauffeured car. Kim was a wonderful mother who made sure the boys had quality time. Upon their arrival, Kim detached Psalm and Saint from their car seats. The trio was assisted by their household's safety guard. She fastly made her way in the direction of the hotel doorway with Psalm on her hip and one hand on Saint.