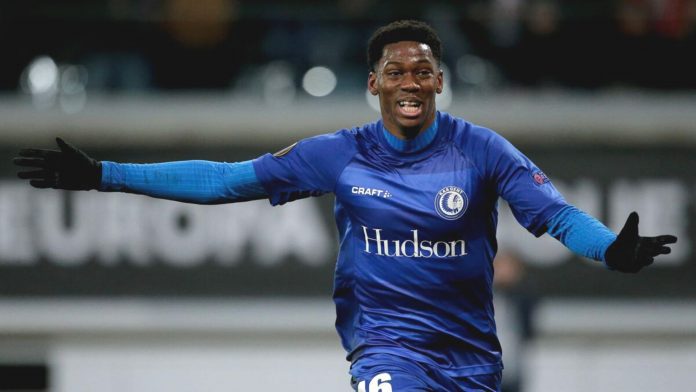 According to recent reports for Sport BILD, Lewandowski is yet another name on the list of potential successors.
Canadian Striker Jonathan David As The Successor Of Lewandowski!
This time, the list will include an excellent Canadian striker named Johathan David. It is speculated that the Bavarians had him in their eyes for a long time. Still, they are recently considering whether to make him join their team.
The new name was added after Hugo Ekitike, also marked as a potential successor.
Jonathan David's Recent Gameplay
David is experienced in the planning and reactions of Bayern Bosses. So, it is expected that there won't be much friction if he becomes the successor.
Currently, David is playing in the French Ligue 1 at OSC Lille. He has played for the team since the summer of 2020 and has shown excellent performance.
David scored nineteen goals in the last forty-three matches during the previous season. He also has a detailed experience of Champion league games. As a result, he will be pretty beneficial for the Bavarians.
He has also played in the last eight UEFA Champions League Matches, where he scored a total of three goals by himself.
What Is The View Of Ligue 1 Club On David's Transfer
As per the reports from Ligue 1 Club, he is on a five-year contract with the French team, which is set to expire in 2025. But, surprisingly, his current team is quite willing to sell their well-reputed striker.
Although it is a matter of surprise that Ligue 1 Club is willing to sell one of their most experienced strikers to another team, it is not a new tactic in sports.
They have put a price of fifty million euros on the player to start negotiations and take steps to ensure a smooth transfer.
As per reports from the sports world itself, the current market value of Jonathan David is said to be about forty million euros. Thus, the team's move to sell a well-reputed striker in Ligue 1 is a brilliant step.
Who Is Jonathan David?
Jonathan David is one of the best soccer players among the Ligue 1 Club Lille. He has a record of scoring nineteen goals in a single season.
He also has a record of scoring three goals in eight UEFA Champions League Matches by himself. As a result of his excellent performance and sportsman spirit, he is often referred to as the ''Canadian Pearl.''
David came into this world in January of 2000 in his hometown of Brooklyn, USA. His full name is ''Jonathan Christian David,'' and he is a native American with family roots tracking back to Haiti.
He is the first son of his parents, who had planned to give birth in the USA to acquire permanent citizenship in the country.
After his birth, he and his parents moved to Haiti, where they currently reside.
Although David played for the Canadian team and created a name for himself, he has never lost touch with his original family roots.
As some of his fans suggest, he regularly visits his parents after matches.
Read More: